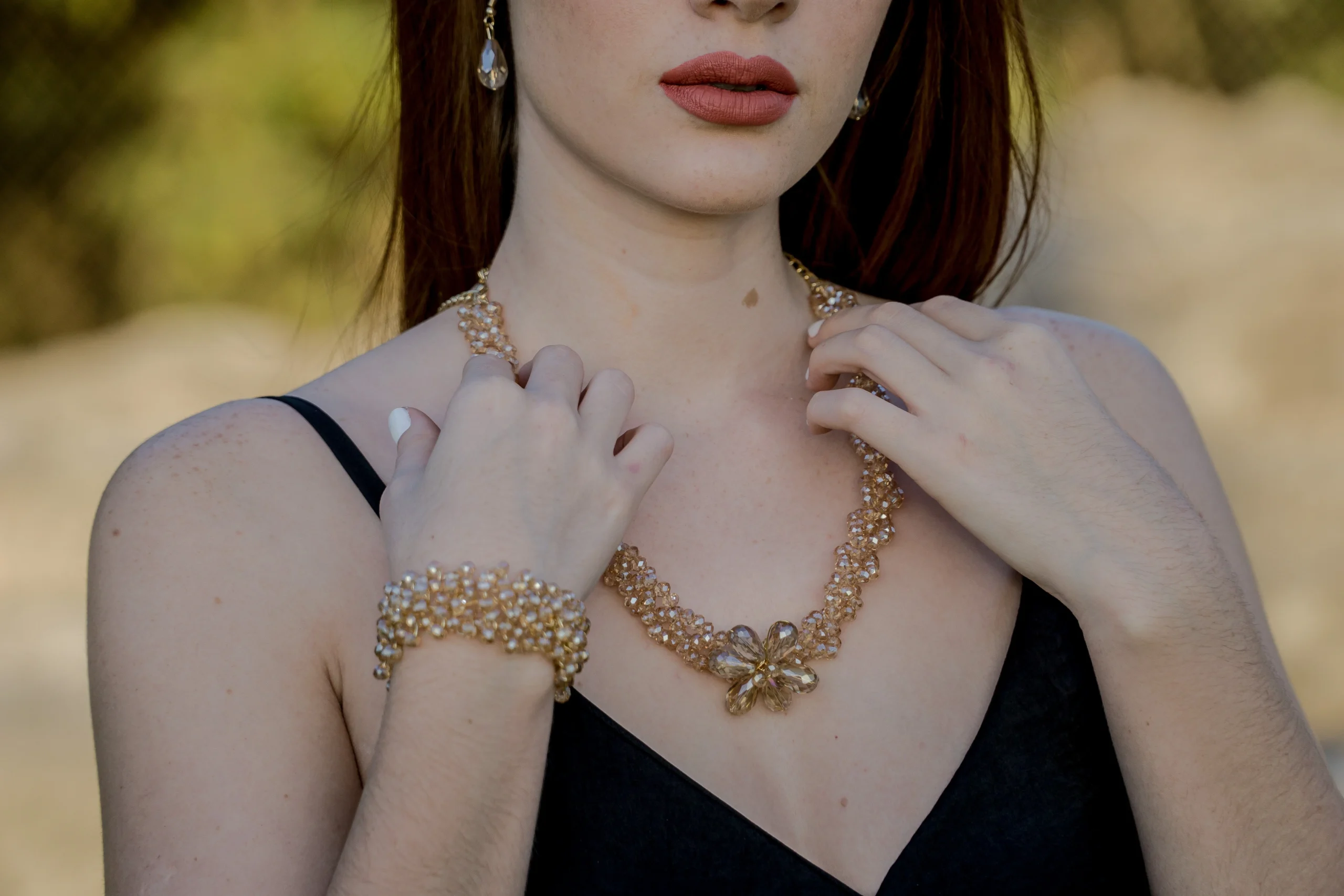 Mastercard announces a partnership with Ukrainian fashion brand BEVZA to launch KALYNA, a limited-edition jewelry capsule collection. Building on the company's focus on supporting the Ukrainian people—and empowering Ukrainian entrepreneurship—the collection was designed to spotlight Ukrainian culture and artistry. The collection is available exclusively for Mastercard cardholders on priceless.com*.
The KALYNA capsule collection was created by renowned Ukrainian designer Svitlana Bevza and consists of a pin, a pendant, and a pair of earrings that combine kalyna with the iconic Mastercard symbol. Kalyna, or the red viburnum tree, has been a cultural symbol for Ukrainians for centuries. Ubiquitous in folklore and in family traditions, it embodies female beauty, love and maternity, as well as unity, dignity and resilience, as its red berries can survive through harsh winter conditions.
KALYNA jewelry capsule is available exclusively on the Mastercard Priceless platform at priceless.com. Each piece was designed and produced in Kyiv, Ukraine. The production of KALYNA jewelry is zero waste, as all the metal leftovers are 100% upcycled into new pieces.
All of the net proceeds from the KALYNA capsule will support the Ukraine House DC Foundation to finance prosthetics and rehabilitation programs for Ukrainian children injured in the war.

"Preserving a sense of hope and inspiration is equally integral and challenging during times of war. This is why I'm especially proud of our partnership with Mastercard," says designer Svitlana Bevza. "Red viburnum is a very special spiritual heirloom for Ukrainians. We aspire to share this symbolism with the wider world, uniting people around supporting Ukraine and discovering its cultural roots'.
"Our focus at Mastercard is to connect people to their passions, their purpose – and each other," said Beatrice Cornacchia, executive vice president, EEMEA marketing and communications, Mastercard. "We are proud to collaborate on such a special capsule with Svitlana Bevza, giving our cardholders a unique opportunity to support Ukraine while embracing its unique cultural heritage. Only by working together can we drive real impact."
This is not the first time Mastercard has collaborated with BEVZA. In 2021, BEVZA debuted the "Mastercard Edition," an urban streetwear capsule collection.
This is one of the latest in Mastercard's ongoing efforts to support the Ukrainian people and the country's economy. This includes helping banks ensure the resilience of their infrastructure, provide mobile-only banking and expand cashless services such as person-to-person transactions. In 2022, Mastercard also launched the award-winning Where to Settle site to help Ukrainian refugees identify cities throughout Poland where they could settle with their families based on factors such as cost of living, rent and salaries, as well as employment and apartment rental offers.
*The jewelry capsule will be available for purchase by cardholders in Austria, Canada, Croatia, France, Germany, Greece, Hong Kong, Italy, Mexico, South Africa, Spain, Sweden, Ukraine, United Kingdom and the United States.
###
About BEVZA
BEVZA is a Kyiv-based womenswear brand established in 2006 by fashion designer Svitlana Bevza. BEVZA believes in the importance of ethical attitudes towards nature and production, designing high quality products with carefully considered materials and techniques. Exploring national heritage, BEVZA implements ethnic symbols and cultural codes. The brand has been participating in New York Fashion Week (NYFW) since 2017.
About Mastercard (NYSE: MA)
Mastercard is a global technology company in the payments industry. Our mission is to connect and power an inclusive, digital economy that benefits everyone, everywhere by making transactions safe, simple, smart and accessible. Using secure data and networks, partnerships and passion, our innovations and solutions help individuals, financial institutions, governments and businesses realize their greatest potential. With connections across more than 210 countries and territories, we are building a sustainable world that unlocks priceless possibilities for all.
Source link:https://www.mastercard.com/