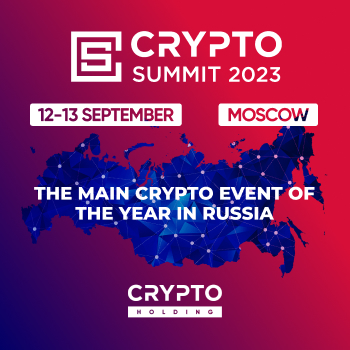 On September 12-13, the III Summit on Cryptocurrencies and Blockchain Technologies will be
held in Moscow. The event will take place at the MTS Live Hall, which is one of the largest
venues in Moscow and has twice been included in the Guinness Book of Records. More than
6,000 people will take part in the business program of the summit.
Companies will be represented among the summit partners: Top Miner, MEHS, Vekus Mining
Development, Digital Fund, R7 Logistics & Supplies, RAKIB, Crypto Legals, GMT Legal,
Go Green, BingX, Crypto Holding, ICO Brothers, Mining House, Best Change, Crypto
Emergency and many others.
The following people will share their thoughts, cases, knowledge and experience:
· Anatoly Aksakov, Chairman of the State Duma Committee on the Financial Market
· Alexey Zyuzin – CEO of Crypto Holding, ICO Brothers, IT expert, organizer of Crypto Summit
· Anton Tkachev – Deputy of the State Duma. First Deputy Chairman of the Committee on
Information Policy, Information Technologies and Communications
· Valery Seleznev – Deputy of the State Duma. First Deputy Chairman of the State Duma
Committee on Energy
· Alexander Brazhnikov – Executive Director of RAKIB
· Maria Agranovskaya – Lawyer, international lawyer, member of the Expert Council of the
State Duma of the Federal Assembly of the Russian Federation on blockchain and digital
technologies
· Georgy Romanov – Top Trader at TradingView, founder of RMNVtrade
· Leonid Maloletov – Top trader and entrepreneur, top 10 best teams in the world at the WSOT
tournament
· Sergey Ryabov – Masterchain Development Director
· Rafael Manvelyan – Author of the Tears of Satoshi channel CEO of VPN Satoshi
· Andrey Tugarin – Managing Partner of GMT Legal
· Denis Smirnov – DAO/DeFi Expert, Blockchain Evangelist
· Sergey Ryabov – Masterchain Development Director
· Nikita Balashov – Product marketing expert
· Evgeny Sapozhnikov – Founder of the electronic currency and cryptocurrency exchanger
Keine-exchange.com
· Marcel Minnakhmedov – Independent Financial Advisor of the Financial University under the
Ministry of Finance of the Russian Federation
and many others. In total, more than 60 top speakers will perform in front of the audience.
The event will last for 2 days, 4 sections with leading industry speakers are expected every day.
The speeches will address issues of development, regulation and the latest trends of the crypto
world. Among the summit participants will be miners, investors, traders, representatives of
crypto exchanges and various blockchain projects, as well as foundations, lawyers, legislators,
blockchain developers, thematic and federal media.
On the second day, the traditional grandiose Crypto Summit Afterparty will be held.

Source link:https://cryptosummit.ru