Hydrogen may be the smallest element in the universe, but it is experiencing huge hype. As governments seek to meet commitments to avert catastrophic climate change, their gaze is increasingly falling onto this simplest of elements to play a critical role in securing a clean and affordable energy future. 
One advantage of hydrogen is that it is the most abundant element on the planet, found most notably in water. Separate the one oxygen atom from the two atoms of hydrogen that make H2O, and you have a light, odorless, storable energy source that produces no direct pollutants or greenhouse gases. It is also incredibly energy-dense: burning a kilogram produces 2.6 times more energy than a kilogram of natural gas.
The President Biden administration in the United States is betting big on hydrogen. A bipartisan infrastructure law signed last year includes $8 billion to establish six to ten regional 'hydrogen hubs' nationwide. The European Union also supports the large-scale deployment of hydrogen with the aim of producing 10 million tons of renewable hydrogen and importing 10 million tons by 2030.
The EU and the US are far from alone. Over 70 countries have hydrogen strategies, and it is estimated hydrogen could meet up to 24% of the world's energy needs by 2050. According to the Hydrogen Council, some 680 big projects have been proposed globally (about 350 are underway) worth $240 billion, including the NEOM Green Hydrogen Project in Saudia Arabia. When commissioned in 2026, it will produce 600 tons of clean hydrogen per day making it the world's largest utility scale, commercially-based hydrogen facility powered entirely by renewable energy.
Over 70 countries have hydrogen strategies, and it is estimated hydrogen could meet up to 24% of the world's energy needs by 2050.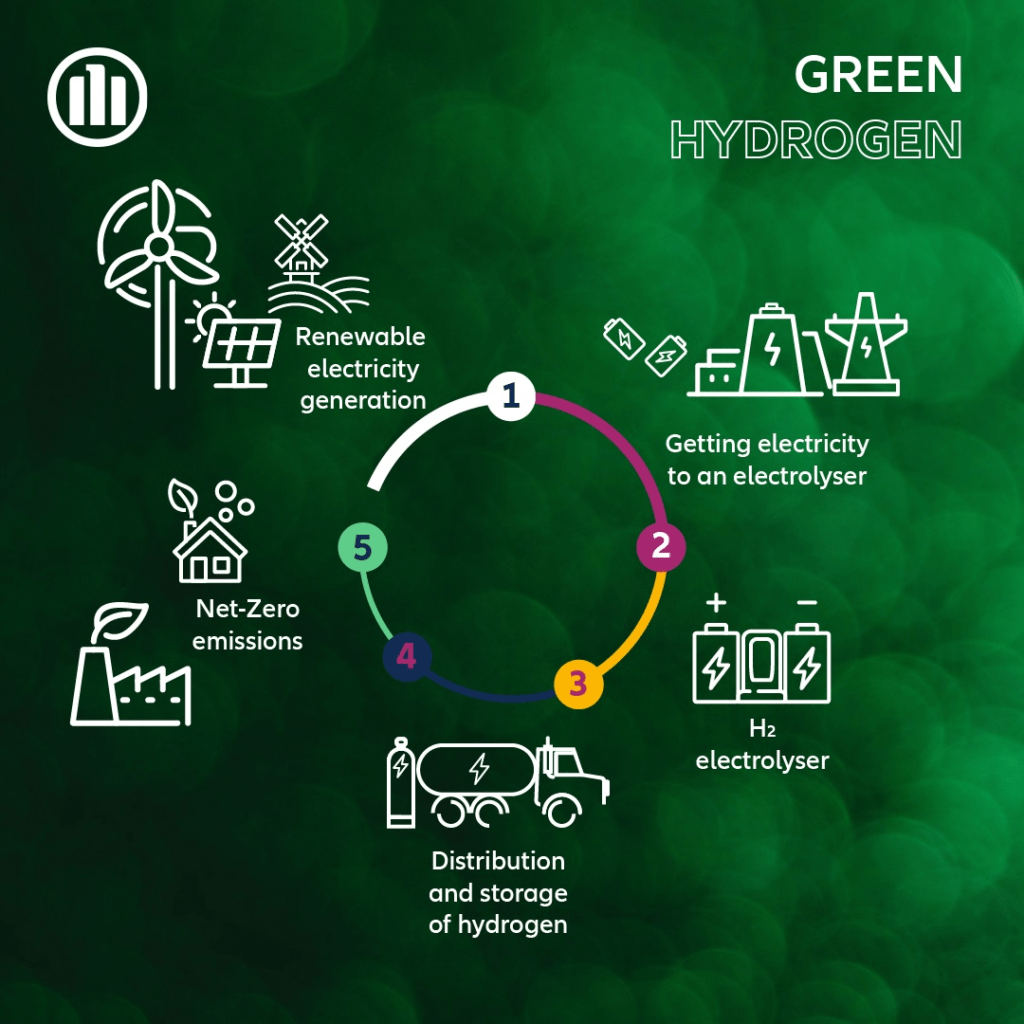 It is hoped that hydrogen will fuel long-haul trucks and ships with fuel cells and support electrical power grids to power homes and feed industry at scale. Airbus has plans to power planes using hydrogen by 2035. France's Alstom is already running hydrogen-powered trains in Germany, with projects underway in France and Italy. Unlike diesel locomotives, they emit no local air pollution and make little noise.
"But the switch to hydrogen as a significant energy source is not simple," says Markus Zimmer, Senior ESG-Economist at Allianz Group Economic Research. "And the insurance industry can play a fundamental role in making the transition happen. This role goes beyond providing guidance, expertise and insuring the various risks underlying hydrogen infrastructure and transport – as an asset owner, the insurance industry has the far-sighted investment horizon that qualifies it as an ideal source of financing, given the right regulatory framework."
Hydrogen has always been the future fuel
We have been here before – many times. Hydrogen powered the first internal combustion engine in the 1860s and the element has been regularly touted as a solution during emergencies, such as the energy crisis of the 1970s. The problem is that hydrogen is rare in nature as a gas. Usually, it is bound up with other molecules, and has to be extracted.
The laws of thermodynamics state that extracting hydrogen will always require more energy than you get when the hydrogen is used. This is one reason, up until today, hydrogen has mainly been used in processes where it is chemically essential, such as in the manufacture of ammonia (used in artificial fertilizers), explosives and methanol for use in plastics.
Another problem is that 95% is currently produced by 'dirty' means, that is, by burning coal (black hydrogen), lignite (brown hydrogen) or methane (grey hydrogen). This means almost all hydrogen produced in 2019 contributed 830 million tons of carbon dioxide into the atmosphere. This was about two percent of the total carbon emitted and around the same as produced by global air traffic.
However, there are other colors on the hydrogen color chart, including that produced by nuclear energy (pink) and renewable energies (green). The declining costs of renewable electricity are stimulating interest in producing hydrogen via electrolyzers, devices that use electricity to split water into oxygen and hydrogen. When the electricity comes from renewable sources, the resulting hydrogen is designated green, as the only emissions are harmless water vapor rather than greenhouse gases (GHGs).
Excess energy generated during periods of sunshine and days of strong winds can be used to create hydrogen. It can then be stored for weeks or even months and converted back to electricity on days when the skies are overcast or the turbines don't spin. If hydrogen can be produced at scale and without releasing CO2, it provides a way to decarbonize a range of sectors – including long-haul transport, chemicals and concrete and steel production – where it is proving stubbornly difficult to reduce GHG emissions.
Fueling change
"If we expect clean hydrogen to meet these goals, we are talking systemic change," says Steffen Halscheidt, Global Practice Group Leader, Oil & Gas at AGCS. "This means massive investment to transform production systems, infrastructure like storage, pipelines and transportation and the use of hydrogen by end users."
The lack of suitable infrastructure is one of the biggest hurdles to achieving a hydrogen-based economy.
He explains that the lack of suitable infrastructure is one of the biggest hurdles to achieving a hydrogen-based economy. Such a shift means replacing or enhancing much of the global energy platform developed over 200 years – and doing it in less than 25 years if the world is to meet Net Zero by 2050.
"But the urgency of stabilizing the climate explains why clean, green hydrogen is gaining unprecedented political and business momentum," comments Halscheidt. "The support is there for hydrogen to morph from a niche power source to be the driver, with countries committing billions to scale up their infrastructure."
Morgan Stanley has reported that, if governments take their green commitments seriously, today's $150 billion market in hydrogen could increase to $2.5 trillion by 2050. As renewable energy capacity demand increases and prices drop, Morgan Stanley believes the cost of hydrogen could fall 70% by 2030.
Hydrogen risk environment
Before the new hydrogen dawn occurs, significant hurdles must be overcome. The first has to do with the nature of hydrogen. Being the smallest molecule, if you squeeze it into a tank, it creeps into the lining and destroys the material, making it brittle. This is known as 'hydrogen embrittlement' and is why hydrogen tanks must be both thick and specially coated, making them expensive.
Hydrogen is also highly flammable, particularly liquid hydrogen, because of its increased density and the need to store it in extremely low temperatures. According to Allianz Global Corporate & Specialty, leaks are hard to identify without dedicated detectors since hydrogen is colorless and odorless.
Halscheidt says, "Today, most hydrogen is commonly produced and used on-site in various industries. What has to change is the type and scale of its adaption and the need to transport hydrogen across vast distances. This is all unfamiliar territory, and risk management must keep pace."
Embrittlement, fire hazards and the high maintenance, transport and production costs can lead to difficulties securing investors, which is where insurance comes in.
Insurance is pivotal in two ways. First, by enabling the development of the hydrogen industry by absorbing risk. Second, is the insurance industry's overall commitment to driving the transition to net zero, including through investments.
Insurance is pivotal in two ways. First, by enabling the development of the hydrogen industry by absorbing risk. Second is the insurance industry's overall commitment to driving the transition to net zero, including through investments.
De-risking hydrogen
As Halscheidt noted, hydrogen production as part of integrated refining and petrochemical facilities or industrial gas programs has long been a staple of the insurance industry's portfolio, but now increasingly new mega projects are materializing creating opportunities for the insurance sector as well. "We see many opportunities in the emerging global hydrogen economy – whether in the generation of green hydrogen in many industries, retrofitting of gas pipelines or storage solutions. Many companies are still in the testing phase of industrial hydrogen applications, but we see more and more projects arriving in the insurance market."
Given the numerous projects planned worldwide, insurers can expect a significant increase in demand to insure the construction and operation of electrolysis plants or pipelines. In the short term, insurance coverage will primarily relate to construction phase of hydrogen facilities including cargo coverage for the transport and logistics of building materials. In the medium to long term – given the risk associated with hydrogen, operational covers providing property and business interruption coverage may grow in importance.
"These projects involve complex construction, industrial and energy risks and require high levels of engineering expertise and insurance knowledge to provide coverage. Our underwriters and risk consultants work closely together to profoundly assess these projects and help customers to mitigate risks and prevent losses," comments Halscheidt. "We will apply the same rigor in risk selection and underwriting for hydrogen projects that we do on existing energy construction and operational business."
Current and future investments
The second way insurance supports the hydrogen industry is through a commitment to the net zero transition. Michael Pfennig, Co-Head of Infrastructure at Allianz Capital Partners, says insurance companies are driving the transition through the leadership they display and through direct investments. Allianz has invested in renewable energy sources, such as solar PV and wind farms, for almost two decades.
"Recently we directly invested in Ren-Gas, a Finnish green hydrogen and power-to-gas developer. In 2020, Allianz and further institutional investors acquired a 75% stake in the gas distribution operator Floene to support the national energy transition plan of Portugal," Pfennig explains.
Floene aims to transport renewable gases and green hydrogen through pipelines to 1.13 million households in Lisbon, Portugal and has just recently constructed a dedicated hydrogen pipeline and injected for the first time green hydrogen into the country´s network. The main product of Ren-Gas is renewable synthetic methane, made from green hydrogen and captured carbon dioxide.
"Ren-Gas is our first direct investment into green hydrogen, underscoring Allianz's effort to support the de-carbonization process through tangible infrastructure projects", says Pfennig. "We see great potential and consider Ren-Gas an excellent opportunity to create green solutions for Finland's transport and energy sector and beyond." 
Source link:https://www.allianz.com/