Erica, the most advanced and first widely available virtual financial assistant, has surpassed 1.5 billion interactions with Bank of America clients. Since launching in June 2018, more than 37 million clients have engaged Erica to help manage their financial needs.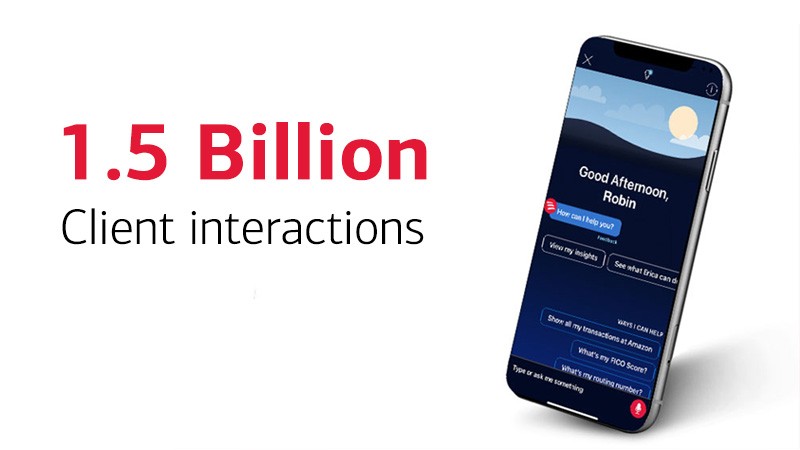 Erica client interactions over 5 years
"Erica's controlled AI has become a primary gateway to personalization, and it continues to evolve with our clients' financial needs," said David Tyrie, Chief Digital Officer and Chief Marketing Officer at Bank of America. "It took four years to reach the first billion interactions, but client engagement with Erica is accelerating, and it will easily exceed 2 billion within a few months. Our clients appreciate how simple and intuitive Erica is, and they trust it's only using proprietary, vetted data."
So far in 2023, clients have engaged with Erica more than 333 million times, up 35% year-over-year. Last year, clients spent more than 3 million hours interacting with Erica, up 31% year-over-year.
Since launching five years ago, the award-winning virtual assistant has evolved to help clients with a variety of everyday guided servicing requests including accessing account information, transferring money between accounts, sending money to friends and family, and finding a nearby financial center or ATM. Erica has also developed intelligent call routing capabilities to seamlessly connect clients to specialists for more complex financial needs.
Clients are currently engaging with Erica 56 million times per month. Personalized and proactive insights now account for more than 60% of engagement, with clients most often using Erica to:
Monitor and manage their subscriptions, such as food services and gym memberships – 3.6 million times per month
Understand spending habits – 2.1 million times per month
Stay informed of merchant refunds – 863,000 times per month
Stay on top of upcoming bills – 332,000 times per month
Check their FICO score – 267,000 times per month
More information on how Bank of America clients are engaging with digital banking is available in the bank's quarterly bankofamerica.com.
Bank of America
Bank of America is one of the world's leading financial institutions, serving individual consumers, small and middle-market businesses and large corporations with a full range of banking, investing, asset management and other financial and risk management products and services. The company provides unmatched convenience in the United States, serving approximately 68 million consumer and small business clients with approximately 3,900 retail financial centers, approximately 15,000 ATMs and award-winning digital banking with approximately 56 million verified digital users. Bank of America is a global leader in wealth management, corporate and investment banking and trading across a broad range of asset classes, serving corporations, governments, institutions and individuals around the world. Bank of America offers industry-leading support to approximately 3 million small business households through a suite of innovative, easy-to-use online products and services. The company serves clients through operations across the United States, its territories and more than 35 countries. Bank of America Corporation stock (NYSE: BAC) is listed on the New York Stock Exchange.
Source link:https://newsroom.bankofamerica.com/