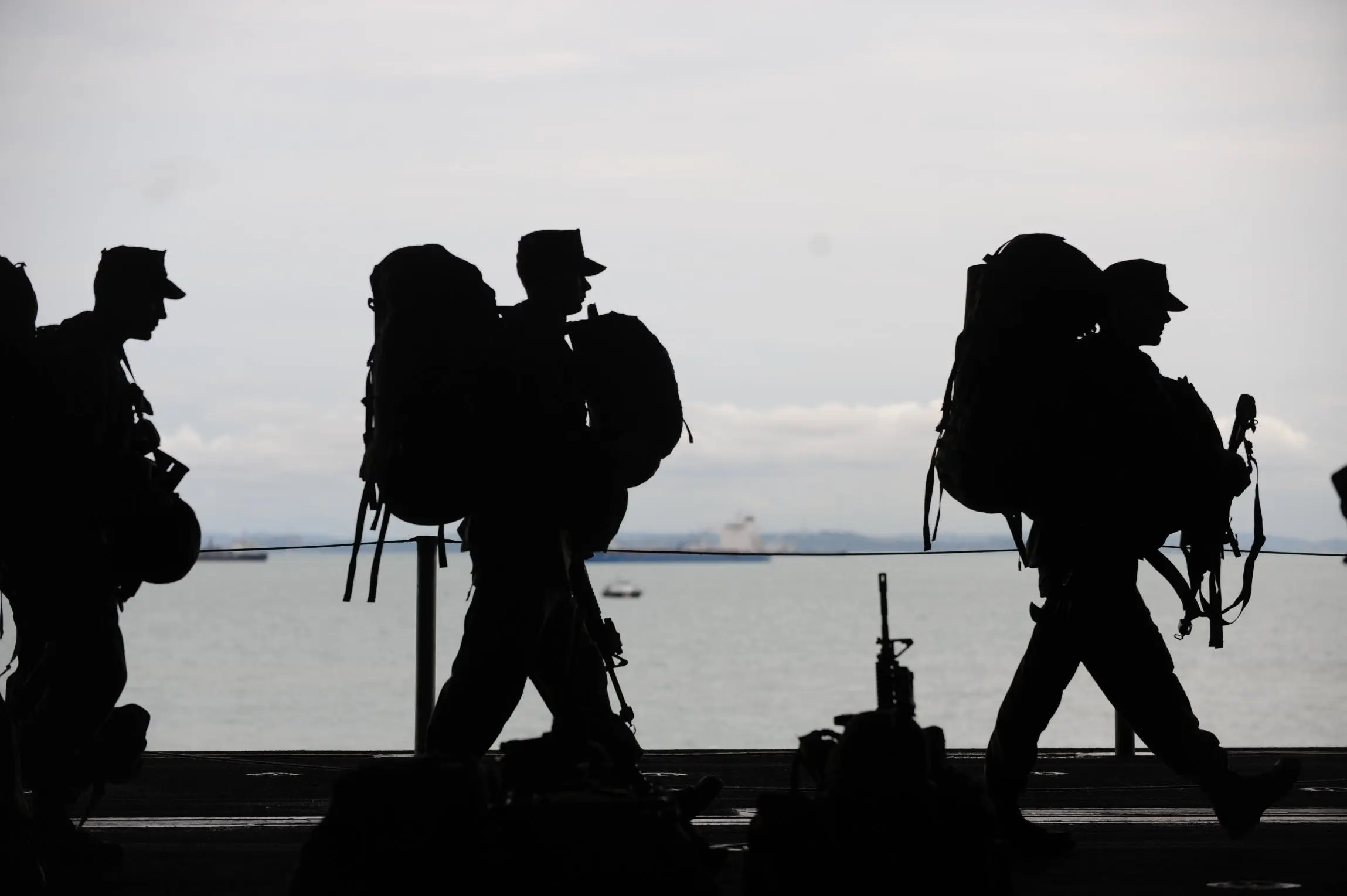 As a child, Jonathon Newton would every day pass the fading sepia photo on the wall of his family home in Ballina, in northern New South Wales, without giving it a great deal of thought.
While he knew that the man in the uniform, standing next to the proud bride and groom at a long-ago wedding, was his great uncle Bert, there was almost nothing in the way of information of his service in World War Two or why he had died so young after returning from the conflict.
Then some two decades later, after joining the Commonwealth Bank following his own military service in the ADF, Jonathon came to ask his mother about what his great uncle did in the war.
"She recalled visiting his grand office in Sydney but remembered how poorly he was as a result of his time as a prisoner of war (POW)," says Jonathon, who had reached the same rank in the Army as Bert and now works in the bank's crisis management team. "That memory of her visit then prompted her to ponder that he probably worked for CBA but she was unsure."
Intrigued and determined to find out more, Jonathon, who joined CBA in 2016, began tracking down his great uncle's service with both the bank and the military. The family photo provided a critical clue: taken in 1946, it clearly showed his great uncle as a Lieutenant in the Australian Army.
A search of the National Archives of Australia and the CBA Archives, then based in Liverpool Street in Sydney's CBD but now located at their new home at The Vault at South Eveleigh, uncovered a small treasure trove of documents.
Bertram Thomas Phillips, who had started his Commonwealth Bank career at the Young branch in NSW in 1937 at the age of 17, had indeed enlisted — in June 1940, a few months after the outbreak of World War Two.
Appointed as a Lance Sergeant, the same rank he held in what was then the reservists, Bert was posted to the 2/19th Battalion, part of the 22nd Brigade of the 8th Australian Division.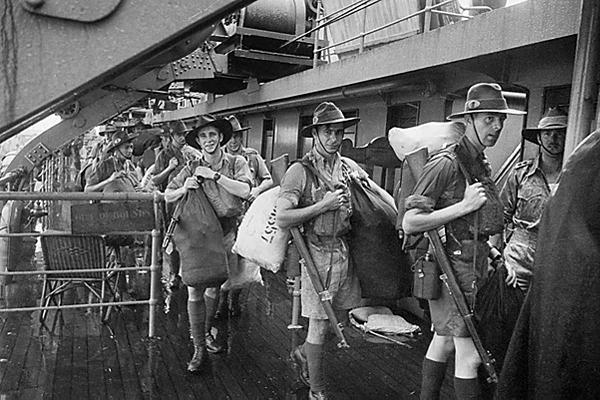 Troops aboard transport awaiting disembarkation in Singapore, Malaya (Australian War Memorial 009249/19)
Despatched, first, to Singapore, and then into the jungles of Malaya, the battalion was involved in some of the first battles fought with the invading Japanese in January 1942, suffering heavy casualties, before retreating and being withdrawn to Singapore.
Like all of the Australian units which ended up defending the huge British military base, the 2/19th subsequently surrendered to the Japanese when Singapore fell. Bert, by then promoted to lieutenant, and his fellow surviving troop mates were imprisoned as POWs in the notorious Changi prison camp.
Bert was initially listed as missing in action, and it was some comfort to his family when the Army confirmed he was being held prisoner. But what followed was a nightmare for all. Bert was subsequently shipped out of Singapore to another camp in Malaya and endured terrible conditions while working on the infamous Burma Railway, which saw him witness the deaths of many of his colleagues.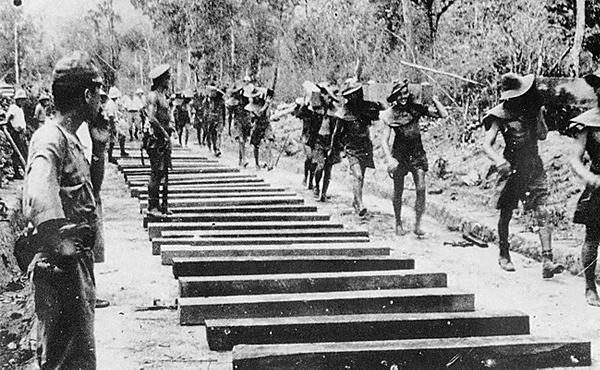 Prisoners of war carrying railway sleepers in Burma in 1943 (Australian War Memorial P00406.026)
Seriously weakened by what became a three-and-half-year ordeal, he somehow managed to survive and, after being freed at the war's end, returned home to Australia via Singapore in November 1945. The next few months were spent recovering in hospital before he was discharged from the Army in early 1946 and then re-joined CBA at the Young branch in April of that year.
It's from here that his story is taken up by the diligent team of CBA archivists, who delved deep into their files on behalf of Jonathon and his family in 2018.
Bank records from the 1930s through to the 1960s show that, in line with the support that all enlisted service-people received from CBA during the war, Bert was due back pay of 1,215 pounds – his salary covering the period from July 1942 to April 1946.
In one of his first employee reviews following his return to the bank, his supervisor noted his good organising skills and his executive abilities which made him an "outstanding" CBA officer (the word used in those times to describe employees).
Described as being very conscientious and willing with a very quiet demeanour, his report card noted: "On his present performances it is hard to realise that he was a POW for three-and-a-half years."
It was this dedication and his readiness to accept responsibility "without hesitation" that saw him move up the ranks within the bank, becoming an "executive cadet" and transferring to the Inspector's Department and subsequently the Administrative Department.
Marked out as a future senior executive, a subsequent review described Bert as having a "flair for being on the ball", a high sense of loyalty, co-operation, planning ability and all-round knowledge of banking. "He is outstanding in these respects," wrote his examiner.
Those skills and growing experience earnt him a move and promotion to the Commonwealth Trading Bank, the commercial banking operations of the group, in 1955 – almost 20 years on CBA.
Glowing reviews were accompanied by further promotions to assistant manager and manager level including a switch to the Foreign Division that saw him represent the bank on Australian government overseas trade missions to the Far East, the Caribbean, Mexico and, in what must have been an emotional trip for him, to Japan in 1963.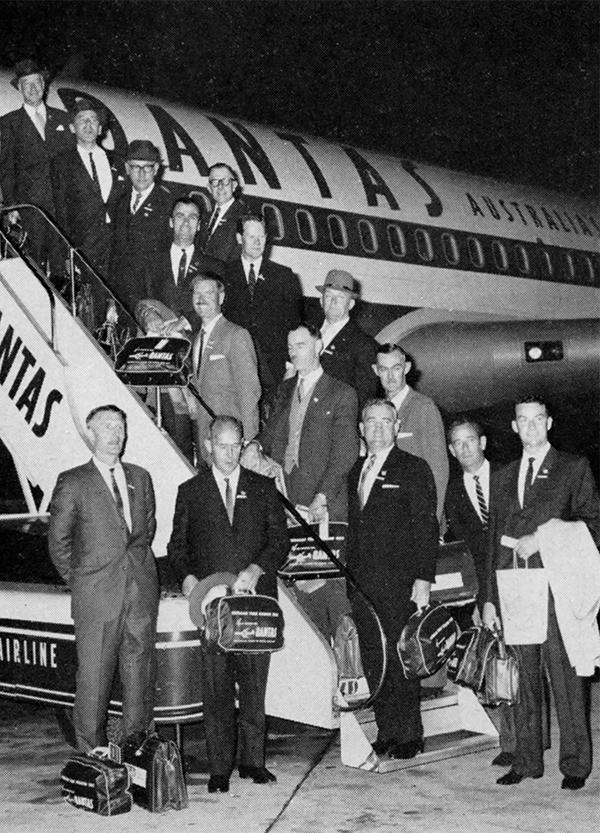 Bert (third from right) embarking on a trade mission to the Caribbean in 1963 (Bank Notes)
His professional and diligent approach, particularly in promoting Australian trade and supporting CBA's international customers as they moved into new export markets, earned him praise both within the bank and outside.
Bert was achieving all of this while quietly dealing with the ongoing ill-effects of his time spent as a prisoner of war. His reviews briefly but candidly refer to these struggles, noting in one that "he does not enjoy the best of health", albeit stating confidently that this should not hinder his future career prospects.
A report in March 1964 proved to be particularly poignant and prescient: "His health has shown little improvement during the past year, but he continues to maintain a high standard of executive efficiency in all phases of his duties, despite this disability. His quietly confident approach to all problems engenders exceptional respect and loyalty from staff and business associates alike."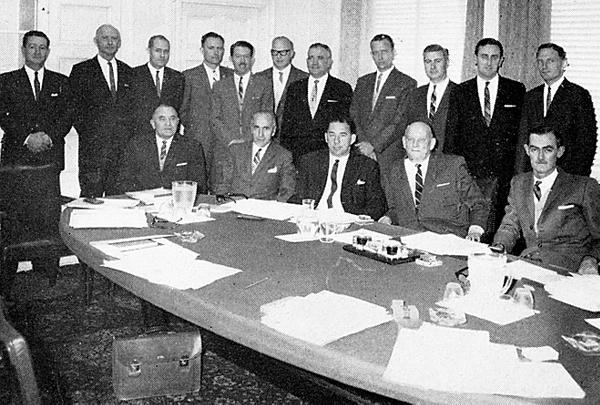 Bert (lower right) with bank colleagues in 1963 (Bank Notes)
Little more than eight months later, Bert Phillips was dead, the toll on his health caused by his wartime captivity proving too much for him. He had just turned 45.
"Bert's experiences were sadly so typical of many of the POWs who returned pretty broken after the war," said Jonathon. "They never fully recovered, mentally or physically, but such was their spirit at the time they just tried to pick up where they had left off and get on with life despite the struggles they were dealing with.
"I don't think many of the family or his work colleagues really knew what Bert was going through. As his bank records testify, he was a quietly spoken, unassuming, reserved and modest man.
"Knowing him more now, I'm deeply proud of what he achieved, fighting for his country and then building such a great career despite the various adversities he faced. I'm also grateful for the support and the opportunities that the bank provided him for nearly 20 years after his return from the war.
"It's sad that he died so young but at least he had the chance to prove what he could do and, as his service and bank records show, he led by example, both in uniform and in 'civvies'.
"If he had been alive today, I couldn't think of anyone being a more fitting embodiment of our values of care, courage and commitment than Bert. That's why I'll be particularly thinking of him this Remembrance Day."
Bertram 'Bert' Thomas Phillips, Commonwealth Bank of Australia officer and Lieutenant, 2/19th Battalion, 22nd Brigade, 8th Australian Division, Australian Army, the Second Australian Imperial Force.
Source link:https://www.commbank.com.au/