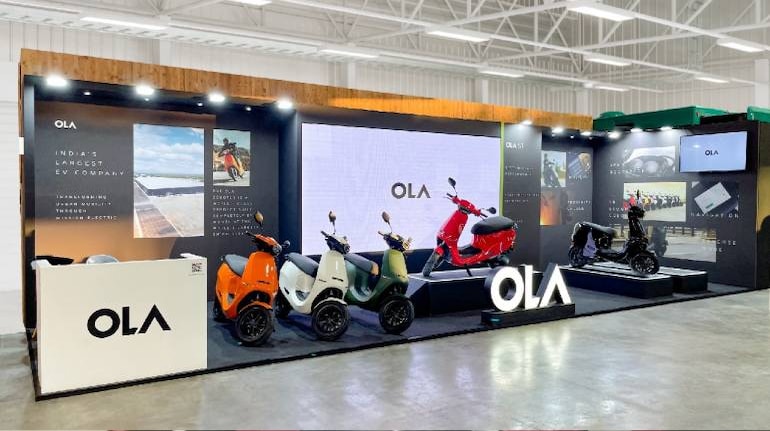 Representative image
Ola Electric has engaged investment banks Kotak Mahindra Capital and Goldman Sachs for an initial public offering (IPO) in early 2024. The electric mobility startup aims to go public before the government subsidies for electric vehicles are discontinued. This makes Ola Electric one of the few venture capital-backed companies to enter IPO discussions within a six-month
On May 23, Moneycontrol had reported that Nexus Ventures and Westbridge Capital-backed affordable housing company India Shelter had picked i-banks for a Rs 2,000 cr IPO.
The electric mobility startup, backed by some of the world's biggest private market investors, including SoftBank and Tiger Global, held meetings with several domestic and foreign investment banks in May to initiate preparations for an IPO, according to people familiar with the matter who informed Moneycontrol.
Following these discussions, Kotak Mahindra Capital and Goldman Sachs are currently in advanced talks to be selected as financial advisors, with Kotak closely collaborating with the startup to determine the IPO's structure, the people said, requesting anonymity. Additionally, Ola Electric plans to appoint at least two more investment banks at a later stage, the people added. The company has also engaged Cyril Amarchand Mangaldas as legal advisor for the IPO, according to the people.
"A few key events to watch out for in the roadmap to the IPO are the motorcycle launch and the progress of the battery unit," said one of the people quoted above.
The person was talking about Ola setting up a new research and development (R&D) facility called the battery innovation center in Bengaluru, spread over 500,000 square feet. Additionally, the company has plans to introduce a new electric motorcycle. Until now, Ola Electric has solely operated in the electric scooter segment.
"No specific timelines have been finalised as yet but the target is to launch the IPO before the elections next year," the person quoted above added.
Sources indicate that the IPO planned by Ola Electric will consist of a combination of primary and secondary share offerings. However, the company is currently deliberating on the valuation, considering the volatile and nascent nature of the electric vehicle market. The firm's founder, Bhavish Aggarwal, who also runs a cab aggregation business Ola, has ambitions of a $10 Billion market capitalisation, people familiar with his thinking said.
Goldman Sachs and Kotak did not respond to queries sent by Moneycontrol, despite reminders. Cyril Amarchand Mangaldas and Ola Electric declined to comment.
To be sure, the company was last officially valued at $5 billion when it raised $200 million in January 2022 from Tekne Private Ventures, Alpine Opportunity Fund and Edelweiss, among others. According to a media report, the company raised $300 million at $6 billion valuation earlier this week. Sources said that Singapore's Temasek or sovereign fund Qatar Investment Authority may have shown interest. However, there's no confirmation on this from Ola yet.
The extent to which investors are willing to dilute their stakes remains uncertain, and any figures currently mentioned may undergo significant changes as the IPO approaches, contingent upon the market conditions and investor sentiment, as per the sources. However, a source said that the company would be looking for a "significant premium" from its private market valuation.
As Ola Electric contemplates its IPO, the timing aligns with the company's ambitions to capitalise on the significant growth in sales of its electric two-wheelers. According to Redseer's electric mobility report released in April, Ola Electric witnessed an impressive three-fold increase in sales volumes, reaching 730,000 units in the fiscal year 2022-2023 (FY23). This notable surge in sales provides a favorable backdrop for Ola Electric's IPO considerations.
Ola's market share also went up to 30 percent in the March quarter and for the full year, too, it was leading with a market share of 22 percent, followed by Okinawa, Ampere, Ather and Hero, according to the report.
In addition, Ola Electric has a target to go public before the government's subsidies provided under the FAME-II (Faster Adoption and Manufacturing of Electric Vehicles in India) scheme come to an end. Recently, the Ministry of Heavy Industries received approval from the central government to decrease the FAME-II subsidies applicable to electric two-wheelers purchased on or after June 1. This development further emphasizes the urgency for Ola Electric to list publicly and take advantage of the existing subsidies before they diminish.
The subsidy rate for electric two-wheelers was brought down to 15 percent of the ex-factory price of vehicles from 40 percent at present. This proposal is likely to impact EV players in India and may likely bring down the demand in the initial phases.
Furthermore, Ola Electric's IPO discussions coincide with a period of declining valuations for electric vehicle companies worldwide. Notably, the share prices of prominent EV firms such as NIO Inc and Rivian Inc in the United States have witnessed substantial decreases, with NIO Inc experiencing an 85 percent decline and Rivian Inc facing a 90 percent drop from their respective peak values.
Source link:https://www.moneycontrol.com/