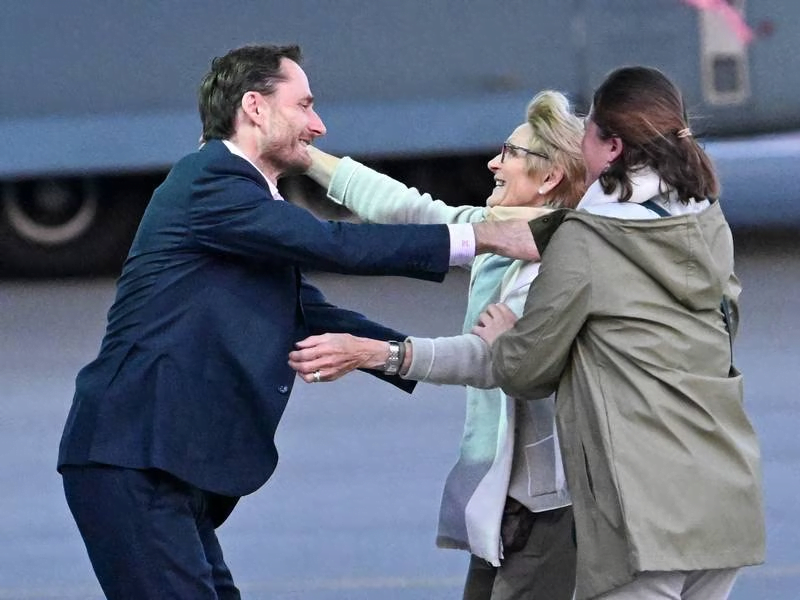 Hours after Iran and Belgium conducted a prisoner swap on Friday, with the help of Oman, details began to emerge on Brussels' mission to free one of its own from a Tehran jail in an operation dubbed "Operation Blackstone".
Once aid worker Olivier Vandecasteele, 42, was aboard a military aircraft that departed from Muscat on Friday morning, Belgian government sources gave journalists in Brussels details of their efforts.
Mr Vandecasteele was exchanged for an Iranian diplomat serving time in a Belgian jail for a failed bomb plot against an Iranian opposition group.
Sources revealed that the Belgian government last year decided to drop attempts at releasing Mr Vandecasteele through a prisoner exchange treaty.
[Belgium's Foreign Affairs Minister Hadja Lahbib] had the delicate task of both asking for Vandecasteele's freedom from Iran while also criticising Iran's leadership
Belgian government source
They feared the Iranian opposition group targeted by Iranian diplomat Assadolah Asadi would delay any exchange by challenging the treaty in court.
They instead requested and received King Philippe of Belgium's approval to make use of Article 167 of Belgium's constitution that grants the monarch the right to direct international relations.
This legal path, though less transparent than a treaty, enabled them to act fast and potentially save Mr Vandecasteele's life.
Since his arrest in February 2022, Mr Vandecasteele has lost 25kg, suffers from ear, stomach and dental infections and has lost all his toenails, leading to concerns about his health.
There were fears he could have faced the death penalty over an espionage conviction.
The treaty would have also obliged the government to inform the group targeted by Asadi, the National Council of Resistance of Iran, of the prisoner swap before it happened.
But this obligation disappeared once Belgium decided to bypass the treaty.
The sources declined to be named publicly and said they had co-ordinated with Mr Vandecasteele's family before speaking to the media.
He landed shortly after 9.30pm local time on Friday at Melsbroek military airbase, near Brussels, where he was welcomed by his relatives.
His exchange against Asadi raises questions about whether Belgium has emboldened Iran in what is widely described as "hostage diplomacy".
It involves detaining innocent foreigners, slapping unfounded charges upon them, and then negotiating their release against one of Tehran's jailed agents.
This is exactly what happened to Mr Vandecasteele, who was kept in solitary confinement for most of his 455 days in detention, according to his family and the Belgian government.
Iran claim the charges against Asadi were unfounded.
Iran specialist Thierry Kellner told Belgian broadcaster RTBF that Brussels had been faced with a tough choice and that by green-lighting the exchange, it had created a "precedent".
"In the case of Olivier Vandecasteele, we have on the one hand an innocent humanitarian worker. On the other, someone sentenced for preparing an attack. There is a clear asymmetry," said Mr Kellner.
The National Council of Resistance of Iran has slammed the prisoner swap, saying Asadi's freedom was "a shameful ransom to terrorism and hostage-taking".
A member of its foreign affairs committee, Shahin Gobadi, told The National: "Nothing justifies releasing a terror master who had planned to create the worst catastrophe in Europe. Nothing.
"This vividly shows that the Belgium government from the outset had no belief in the legal process and made a mockery out of this process to appease the clerical regime, the central banker of state terrorism."
Back channels and negotiations
But Belgium's Prime Minister Alexander de Croo was unapologetic.
He did not directly address the decision to bypass the treaty, but said in a video statement that Mr Vandecasteele's life "takes precedence" over all other considerations.
"We do not abandon anyone in Belgium, especially not when they are innocent," he said.
The legal hurdles linked to making use of the treaty became apparent to Belgian officials involved in negotiating Mr Vandecasteele's release after the National Council of Resistance of Iran challenged it in court, shortly after it was approved by the Belgian Parliament. This led to its suspension in December.
That was when negotiators decided to find other ways to release Mr Vandecasteele, said the government sources.
Their first choice had been to use the treaty because it was the "most transparent" tool available and enabled a debate in Parliament, said one source.
But by the time that Belgium's highest court upheld the treaty in March, it had become irrelevant in negotiating Mr Vandecasteele's release.
"We knew that if there were appeals in court, Olivier Vandecasteele would have stayed detained until the end of the year at least," said one Belgian source.
"It's better that two guilty people are free than one innocent man remain in prison," they added.
This is why Belgium gave the operation to free Mr Vandecasteele the codename "Blackstone", in honour of 18th century British judge William Blackstone.
He famously wrote: "It is better that 10 guilty persons escape than that one innocent suffer."
The sources did not say at what point Oman entered the negotiations, but said Muscat was an obvious choice to help with the transfer.
"Oman is regularly used as a mediator due to its good relations with many countries in the Middle East. We needed to work with someone who had access to Tehran," they said.
Asadi and Mr Vandecasteele were both transited by Oman before returning to their home countries. They did not meet.
The Belgian government was keen to accelerate efforts for Mr Vandecasteele's release because there were indications that new and more serious charges may be brought against him, said the sources.
The aid worker was sentenced in January to 40 years in prison and 74 lashes for espionage. He was detained in "unbearable" conditions, with the light in his cell on 24/7 and no mattress to sleep on for months at a time.
In what represented further attempts to break his spirit and falsely raise his hopes about being able to leave Iran, Iranian authorities "let him in and out of prison several times", said one government source.
There was also the possibility that he could face execution by hanging.
Iran has executed seven people in relation to anti-government protests that swept the country in September.
Foreign nationals are regularly targeted. Swedish Iranian Habib Chaab was executed in May, after being convicted of terrorism, while it was announced in January that British citizen Alireza Akbari had been hanged, following his conviction on spying charges.
Iran's mercurial leadership
Human rights groups have said defendants do not have access to fair trials and are routinely tortured. At least 582 people were executed in Iran last year, the highest number of executions in the country since 2015.
Iran's brutal response to the protests and executions have sparked routine condemnation by European leaders, including from Belgium's Foreign Affairs Minister Hadja Lahbib.
She met Iranian leaders twice in the past year on the margins of UN meetings in New York and Geneva, said one government source.
"She had the delicate task of both asking for Vandecasteele's freedom from Iran while also criticising Iran's leadership," they said.
Now that Mr Vandecasteele is free, there are no more Belgian detainees in Iran.
But several questions about his detention remain, as sources declined to address them due to their sensitivity.
They include the identity of Mr Vandecasteele's co-detainees. His family's spokesperson told The National last month that he had been moved from solitary confinement to a 12-square-metre cell shared with two others.
It also remains unclear exactly which state body in Iran decided to arrest Mr Vandecasteele in February 2022.
When pressed by journalists asking whether his arrest had been approved by Iran's President Ebrahim Raisi, one government source said that they did not "have enough elements" to answer this question.
Power structures in Iran fluctuate depending on the day and the matter at hand, they said.
"Nothing is set in stone."
Source link:https://www.thenationalnews.com/