Bank of America today announced it will expand its financial center network into nine new markets over the next four years, bringing banking, investing, retirement, lending and small business services and solutions to more clients and communities. Through this expansion, the company will now operate financial centers in more than 200 markets across 39 states.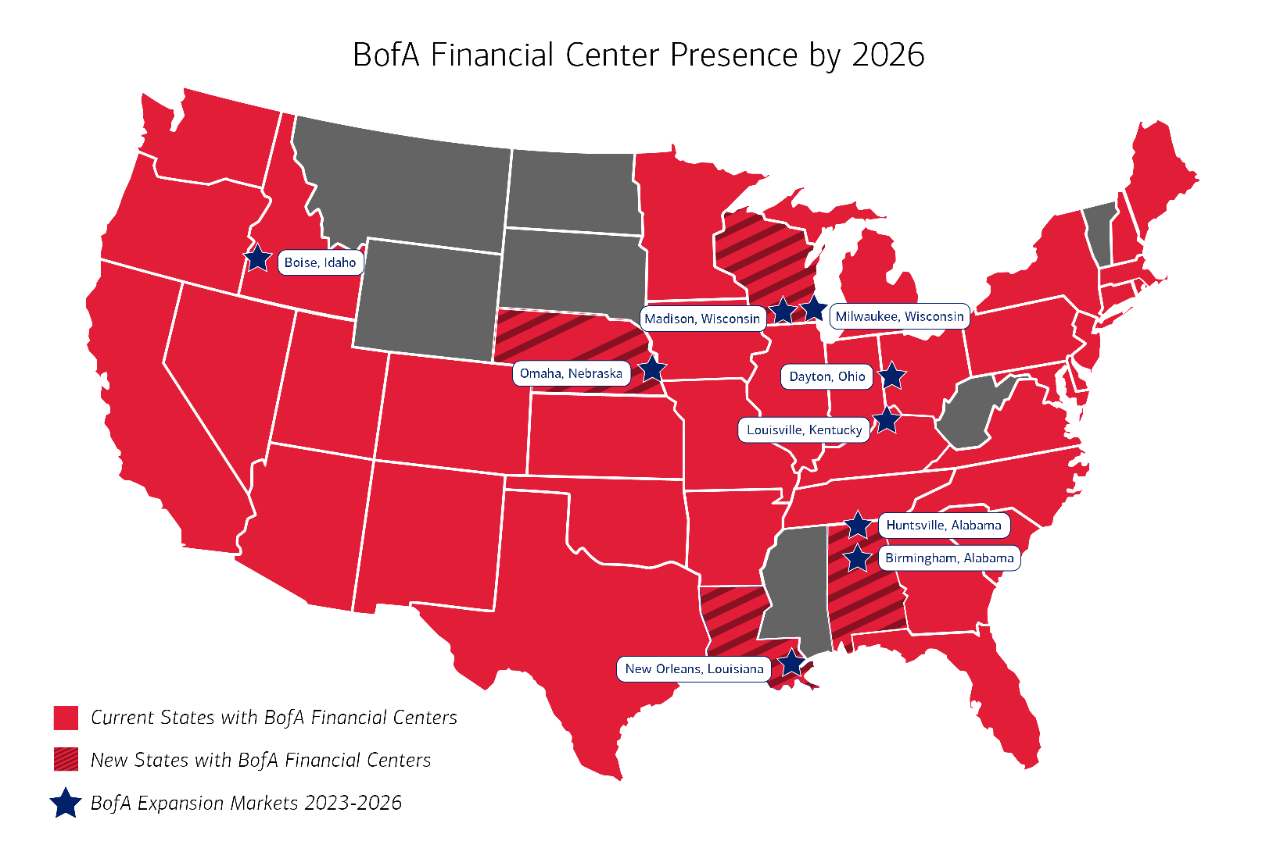 Map of the contiguous United States titled "BofA Financial Center Presence by 2026".
"As part of our high tech and high touch approach, we continue to invest in digital capabilities, and to modernize our financial centers to reach more clients and meet their evolving needs," said Bank of America CEO Brian Moynihan. "By expanding our capabilities in these markets, we are able to better serve clients, and help drive local community growth and development."
In addition to optimizing its retail banking presence in well-established markets, this year the company will begin a multiyear retail banking expansion across nine markets and four new states, including Nebraska, Wisconsin, Alabama and Louisiana:
Omaha – Bank of America will open two financial centers in Omaha this year, with plans to open a total of five locations by 2025.
Louisville – Five financial centers will open in Louisville starting in 2024. The bank's first Kentucky centers opened in Lexington in 2021.
Boise – In 2024, Bank of America will also open financial centers in Boise, with plans to open four total locations.
Birmingham – The bank will open its first financial center in Birmingham in 2024, with plans to open five by the end of 2026.
Madison – Bank of America plans to open three centers in Madison in 2025.
New Orleans – Expanding its presence in Louisiana, the bank will open its first centers in New Orleans, with plans for five locations in 2025.
Milwaukee – Following its expansion into Madison, the company will open five financial centers in Milwaukee in 2025, bringing its Wisconsin network to eight centers.
Dayton and Huntsville ­– Bank of America plans to open its first financial centers in these cities by 2026, further growing its presence in Ohio and Alabama, respectively.
"Our financial center strategy is designed to serve our clients when, where and how they choose to manage their financial lives," said Aron Levine, President of Preferred Banking at Bank of America. "Although more clients are using our digital banking capabilities, many still visit our centers for in-person conversations about some of their more complex financial needs. Our redesigned centers make it easy for them to meet with professionals for tailored solutions and advice on their life priorities and financial goals."
Modern Financial Centers
By the end of 2023, the bank will complete a three-year project to renovate and modernize its financial centers across the country. Through this effort, more than 2,500 existing centers will have been renovated with a focus to create offices and meeting spaces for clients to talk with financial specialists, make state of the art technology easier to access at the front of the centers, and ensure clients have a consistent, modern experience inside every center.
As part of the ongoing optimization of its financial center network, this year the bank is also expanding the number of community banking centers it operates to 700 from 600. Through its community banking centers, Bank of America helps increase financial resiliency and economic mobility by connecting the community with jobs and access to core banking products, services, technology and capital, to help local communities thrive. All teammates in community banking centers are trained and certified in Better Money Habits financial education resources, and regularly hold learning sessions with clients on ways to save, plan and manage their money. More than 2,600 teammates are also certified to serve clients who do not speak English, with nearly 90% certified in Spanish, and the remaining associates certified in at least one of 12 other languages.
Bank of America currently operates approximately 3,900 financial centers across the country. Nearly 30% of these centers are in LMI communities, and 44% are majority-minority communities. Through its financial center network, 240 million people across more than 200 markets, or more than 76% of the U.S. population, have access to the bank's services. Through ongoing investments in its financial center network, since 2012 an additional 16 million people now have access to the bank's services where previously they did not.
As part of a nationwide partnership with ArtLifting, all financial centers in these new markets will feature works by artists who are living with disabilities or impacted by housing insecurity. As of 2023, the program has expanded to feature 27 artists' artwork displayed across nearly 1,000 financial centers across the country.
Ongoing Expansion
Bank of America opened 58 new centers in 2022 and plans to open more than 55 new locations in 2023 across 34 markets. In the previous 10 years, the bank expanded its financial center network into nine cities across Colorado, Minnesota, Indiana, Pennsylvania, Utah, Ohio and Kentucky:
Denver – Since 2014, Bank of America has opened 32 financial centers across Colorado and plans to add six more in the next two years.
Minneapolis – The bank has opened 28 financial centers in Minneapolis/St. Paul since May 2015 and has plans to open four more.
Indianapolis – The first financial center opened in Indianapolis in November 2017, and the bank has since expanded to a total of 18 centers with plans to open four more.
Pittsburgh – The bank opened its first financial center in September 2018 and now has 14 total centers across the market.
Salt Lake City – Since May 2019, Bank of America has opened 20 locations across Utah with 6 more planned in the next few years.
Columbus – The bank has opened 16 financial centers in Columbus, Ohio since 2019.
Cincinnati – Coinciding with its entry into Columbus, the bank has opened 21 locations in Cincinnati since 2019.
Cleveland – Over the last two years, the bank has opened 14 financial centers with 6 more planned across Ohio.
Lexington – As part of its most recent expansion, Bank of America has opened three centers and has plans for more in Lexington.
Bank of America
Bank of America is one of the world's leading financial institutions, serving individual consumers, small and middle-market businesses and large corporations with a full range of banking, investing, asset management and other financial and risk management products and services. The company provides unmatched convenience in the United States, serving approximately 68 million consumer and small business clients with approximately 3,900 retail financial centers, approximately 15,000 ATMs and award-winning digital banking with approximately 56 million verified digital users. Bank of America is a global leader in wealth management, corporate and investment banking and trading across a broad range of asset classes, serving corporations, governments, institutions and individuals around the world. Bank of America offers industry-leading support to approximately 3 million small business households through a suite of innovative, easy-to-use online products and services. The company serves clients through operations across the United States, its territories and more than 35 countries. Bank of America Corporation stock (NYSE: BAC) is listed on the New York Stock Exchange.
Source link:https://newsroom.bankofamerica.com/